The Adventurers Challenge 2019
The Adventurers Challenge 2019
6 June 2019 (by admin)
The Adventurers Challenge 2019 for Year 5 and 6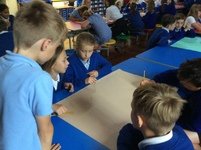 Year 5 and 6 children were excited today to learn they could invest £5 with their own company team. They thought of different ideas of investment such as car washing and selling cakes. The children had to give themselves different job roles and think of a company name, logo and strap line.
A big thank you to Company of Merchant Adventurers of the City of York in partnership with NYBEP for the Adventurers Challenge 2019.
The company has a history of fostering enterprise in the area and encourage children and students to experience a taste of business and entrepreneurship as part of their learning experiences.
We will be finding out later in the month how the children get on!