Curriculum & Learning
Curriculum at Sowerby Primary Academy
Children under 5 years old go into our Reception classes. The Reception year group, follow a different curriculum to the rest of the school known as the Early Years Foundation Stage.
The rest of the school, that is, year groups 1 through to 6 follow the National Curriculum. The 3 'core' subjects are English, Maths and Science and there are 8 'foundation' subjects which we teach through a thematic approach developed from a high quality core text.
Curriculum Intent
Our intention is that our curriculum will enable us to 'grow courageous learners'. It has been designed with the 5 values at the heart of what we do.
COURAGE
RESPECT
RESILIENCE
ACCEPTANCE
KINDNESS
A Coherently Planned Curriculum which sets out:
A clear list of the breadth of topics to be covered

Threshold concepts, pupils should understand

Criteria for progression, within threshold concepts

Assessment Criteria for depth of understanding at Beginning, Advanced and Deep levels
We deliver an ambitious, knowledge rich curriculum. Pupils acquire skills that can be applied across subjects in an increasingly sophisticated way. We give great consideration to experiences and opportunities to develop the cultural capital they need to succeed in life. In this way we will foster kind, responsible adults of the future.
Cultural Capital
Cultural capital is the background knowledge of the world pupils need to infer meaning from what they read. It includes vocabulary, which in turn helps pupils to express themselves in a sophisticated and mature way.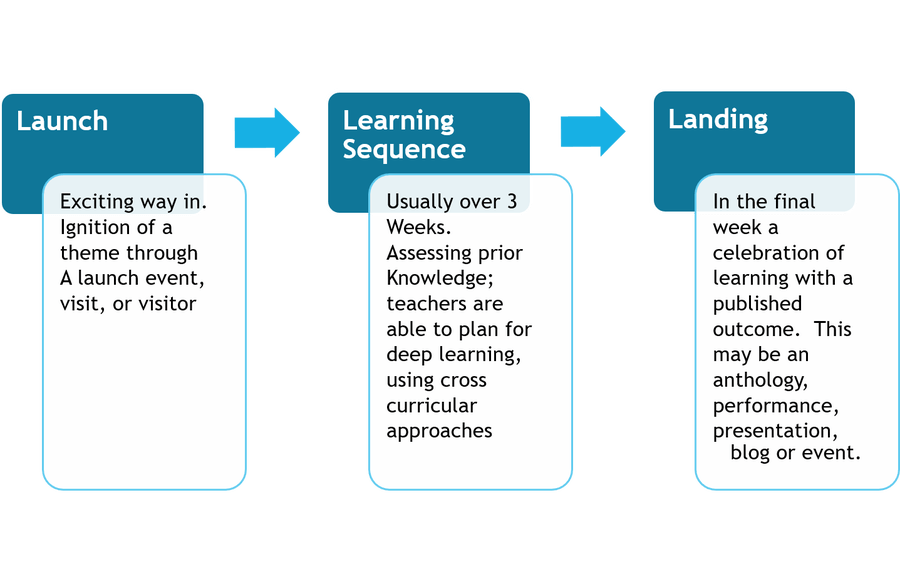 Implementation
Our curriculum is delivered through high quality texts around a theme. The themes are the context for a series of lessons over 3 weeks.
We also deliver enrichment weeks where a particular aspect is a week-long focus. These may range from Diversity week, Multi-cultural week and STEM topics.
We aim to make learning difficult to resist. Our curriculum is about providing children with excitement for and inspiration to learn. We build learning experiences which excite, inspire and challenge pupils. This approach enables a sense of purpose which is deepened by participation, contribution and collaboration from all children.
Their published work is a reflection of the hard work and a celebration of their achievements. Some of these can be seen on class pages and blogs.
We recognise the importance of sequenced and spaced learning, retrieval practice and developing links between concepts as the key to making learning 'stick'.